Tag Archive for:
headhunting
https://wisenetasia.com/wp-content/uploads/2021/05/Logo-232-x-82-e1620661363308.png
0
0
Diron Chua
https://wisenetasia.com/wp-content/uploads/2021/05/Logo-232-x-82-e1620661363308.png
Diron Chua
2019-10-27 11:53:27
2019-10-27 14:42:10
Executive Search in Chongqing
The 2019 Second China Headhunting Industry Development Summit is successfully held on June 21st in Chongqing Human Resources Service Industrial Park.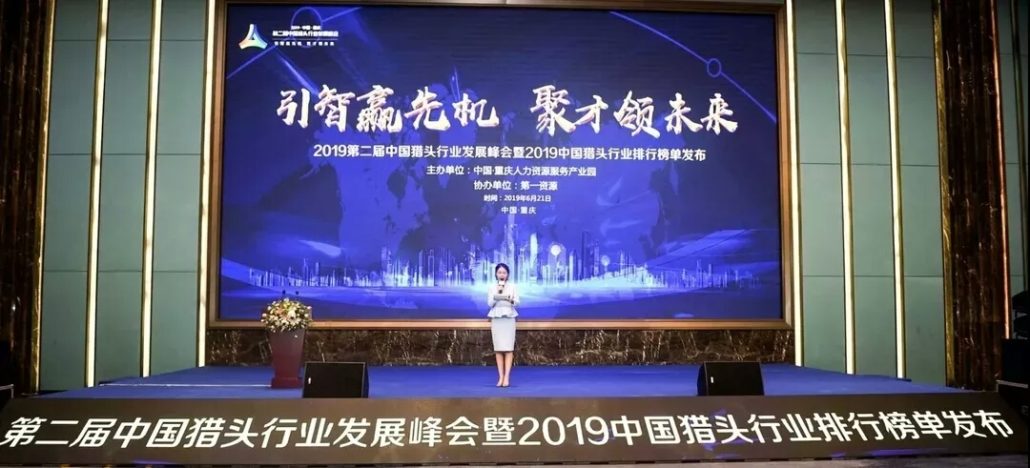 On this occasion, our general manager Ms Karen Woong accepted an interview from Hualong.com.  According to Ms Woong, "Successfully hunting a senior talent is sometimes more like a psychological game."  According to the "2019 Headhunting Industry Insight Report", the headhunting process starts from the commissioning of the recruitment assignment whereby a recruitment project takes an average of 1-3 months to complete.  An average 45.67% of the headhunters complete a recruitment project within a period of about 3 months.  The people in the industry describe hunting talents as comparable to the pursuit of love.
From HR to headhunting for more than 10 years, Ms Karen Woong, General Manager of Chongqing WiseNet Asia Co., Ltd. bluntly said that it is a "marriage" for the company and talents.  Everything has variables. Once, to look for a sales director of an international company, the company picked an Italian from 10 recommended candidates, the two sides hit it off.  The candidate has three days to enter the job, but in the last minute said that he "does not want to jump", which means that the year-long hunting plan has been abandoned. "My wife is pregnant, and there is no way for the company to take care of the family at this time."  The candidate is apologetic.  In addition, the original company treated the welfare of the employees' family members, which was obviously better than the new company.  Ms Karen Woong did not break the connection with the candidates. She recalled: "After a year, the job vacancy still exist, the client company once again proposed to recruit others. This time, the candidate who once rejected showed me his network, this single business was then successfully completed."
An industry insider revealed that the high-end candidates are all "airborne soldiers".  Whether they can control the team and survive in the enterprise, they also need the follow-up service of the headhunter.  "When the candidate failed to survive the three-month guarantee period, the headhunting company will only get 50% of the value of the order." Previously, to help a packaging printing company in Singapore to find a professional and technical personnel, Ms Karen Woong turned to find the right person in India. When the other party flew from India to Singapore, a person came to the channel with his luggage. Ms Karen Woong decided to become his first local friend, this means one-to-one orientation including eating habits, cultural atmosphere, taking him to the supermarket, so that he can get used to the local life as soon as possible.  This year's Spring Festival, the candidate's phone call made Ms Karen Woong feel warm: "He said that when he returned to Singapore during the Spring Festival, he hoped to introduce his wife to me."For many years, Ms Karen Woong often received something from the family members of the candidates such as greetings, hand-made desserts, etc.  The master of profound psychology, Ms Karen Woong feels that headhunting is a business that needs long term 'efforts', whereby you need to really think what is best for the job candidates and let them give you their heart. Headhunters often need to go out with candidates or customers to expand their network. They once recruited professional management talents for an international airport, whereby Ms Karen Woong flew directly to the Maldives.  This is a headhunting life exactly as shown in the TV series.

Extracted from Hualong.com – "Hunting in the Workplace" Chongqing WiseNet Asia.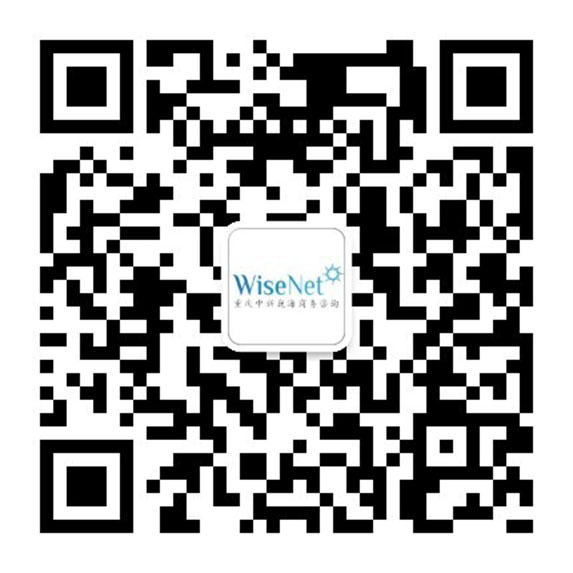 https://wisenetasia.com/wp-content/uploads/2019/06/mmexport1561385048513.jpg
607
1080
Diron Chua
https://wisenetasia.com/wp-content/uploads/2021/05/Logo-232-x-82-e1620661363308.png
Diron Chua
2019-06-24 15:00:33
2019-08-23 11:01:30
2nd China Headhunting Summit Successfully Held in Chongqing
16 Jan 2018 –  The first Chongqing 'Innovate Entrepreneurial Ecology Summit' was an event jointly organized by the Chongqing Municipal Bureau of Human Resources and Social Security, Chongqing Municipal Finance Bureau, Chongqing Municipal Committee of the Communist Youth League, Women's Federation of Chongqing, Chongqing Expressway Group and Chongqing Employment Service Authority in the Yuelai International Conference Center in Yubei District, Chonqing.
The purpose of the summit is to implement and encourage the ideas of innovation driven business strategy and entrepreneurship generating employment.
Municipal leaders, chairman of the New Oriental Education Group, Hongtai Foundation co-founder Yu Minhong, founder of zbj.com, Zhu Mingyue, Cerberus Lvke Group Managing Partner Li Jisheng, a total of 10 big ventures, 175 high-quality business incubators in all districts and counties , 44 venture capital agencies, 79 venture incubators and 8 well-known human resources organizations, plus a total of 1,000 people attended the summit.  All participating entrepreneurs can submit BP to investment institutions, hatching bases, headhunters and leading companies to discuss cooperation projects.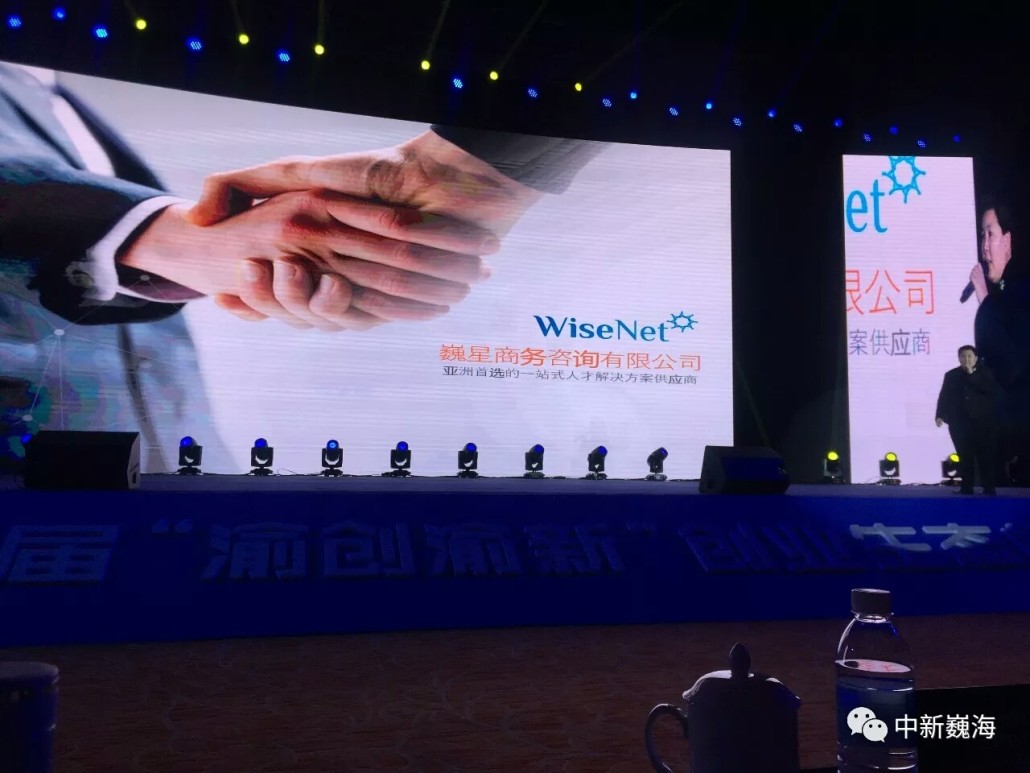 Picture above:  WisenetAsia's China GM Ms Karen Woong speaking at the summit.
In the summit, WisenetAsia's China GM Ms Karen Woong shared with participants how headhunting firms work to help organizations in talent acquisition solutions.
WisenetAsia is established in year 2011 in Singapore, with an employment agency license issued by the Singapore Ministry of Manpower. The company specialized in high end talent acquisition from mid to senior level management, and has a database of more than 50,000 international talent information. Headquartered in Singapore, WisenetAsia's other locations include Kuala Lumpur, Chongqing, Shanghai and Hong Kong.

In 2017, WisenetAsia set up a wholly-owned subsidiary in Chongqing – 重庆中新巍海商务咨询有限公司.  It is the first overseas high-end headhunter company in Chongqing's Human Resources Industrial Park. WisenetAsia is committed to implementing the Hongyan Project launched by the Chongqing Municipal Government which sought to bring in talents to Chongqing.

WisenetAsia works with customers in various industries including technology innovation industry, real estate, financial services, infrastructure, investment funds, health care, aviation, logistics, and so on.  It's client base consist of state-owned enterprises, multinationals, start-up companies and private-owned companies. Every company has its distinctive corporate culture.  WisenetAsia team has the competitive advantages in skilled matching between different types of personalities with different types of company culture.  Ms Woong gave an example whereby people working in start-up companies need to be prepared to accept uncertainties in their job, need to be able to accept ambiguous situations, need to understand not everything will have an immediate answer, need to roll up their sleeve and be prepared to be really hands on and work overtime when required.  With experience working with different organizations, the WisenetAsia team understand what type of job candidates to match with each businesses.

WisenetAsia's successful placements coverage areas include China, Singapore, Southeast Asia, the Middle East, Japan and South Korea, India, Australia, etc. It's successfully placed positions include Applied Science, Finance, Investment, Marketing, Human Resources, Project Management, Legal Affairs, Asset Management, Procurement, Digital Technology, Operations Management, Quality Management and more.

Ms Woong explained to the audience 'What is headhunting?' In summary, headhunting is a bridge between the hiring unit and talents.  Headhunters will look for suitable  job candidates, including passive ones, based on the hiring unit's requirements.
Ms Woong also shared the following reasons for engaging headhunters:
First, talent is hard to find. Talent shortage is the problem many companies are facing.
Second, by outsourcing cumbersome recruiting jobs to headhunters, companies can focus their energies and time better on business development or management.
Third, with talent shortages, enterprises cannot passively be waiting for talents to apply for their jobs. Through headhunters, companies have the opportunity to reach out to people who are not actively looking for a job, because headhunter will not just look at the existing talent in the market, but also take the initiative to contact those who are not actively looking for a job.
Fourth, when businesses want to expand into new markets, they can rely on headhunters to find suitable candidates in local markets.
Finally, in her speech summary, Ms Woong shared with the audience how headhunters operate.  According to Ms Woong, "Upon being commissioned by the employer, we will conduct an in depth study of the company's background, business, strategy, challenges, culture and competitors.  We will also communicate with the employer and confirm the understanding of job vacancies, responsibilities, employment specifications and so on.  We will analyze the talent market according to the needs of our clients, list which industries or enterprises may have the necessary job candidates, and then through our talent pool and contacts, systematically and actively seek out targeted talent and discuss with them if they are willing to join a client's company or position.  We will recommend interested candidates to the employer to consider for an interview, and finally assist in the staff on-boarding.  Throughout the whole process, we will keep in close contact with employers and personnel."
WisenetAsia is honored to have this opportunity to interact with these start-ups in Chongqing.  Looking at so many entrepreneurs taking the stage and sharing their creative projects, we feel the strong support of the Chongqing municipal government in start up businesses.  We are convinced that the atmosphere of innovation and entrepreneurship in Chongqing will be increasingly prosperous.
https://wisenetasia.com/wp-content/uploads/2021/05/Logo-232-x-82-e1620661363308.png
0
0
Diron Chua
https://wisenetasia.com/wp-content/uploads/2021/05/Logo-232-x-82-e1620661363308.png
Diron Chua
2018-01-19 10:37:55
2021-05-17 21:37:27
Wisenet Asia China GM speaks at the first Chongqing 'Innovate Entrepreneurial Ecology Summit'