Mr Tommy Ng
Founder & Chief Guru of HR Guru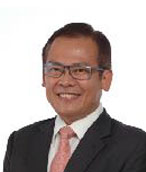 Area of Expertise 
Championing HR Excellence
Helping HR Leaders enhance careers
Helping companies manage and leverage people effectively
Before founding HR Guru, Mr Tommy Ng had a career in HR spanning over three decades. He was previously the Human Resources Director of Tiger Airways, General Manager of Group HR for GuocoLand Limited, Senior Vice President of Corporate Services at SMRT Corporation, Senior Vice President of Global HR for Raffles Holdings Limited/Raffles International Limited and Executive Director of Raffles Knowledge/Raffles UniVirtual.
A former member of the Industrial Arbitration Court, Employers' Panel, Tommy was conferred the Medal of Commendation by the National Trade Union Congress and has been bestowed with numerous other awards, including the Outstanding Contributions to HR from HRM Asia, the highest accolade for HR professionals in Singapore, recognising him as a stalwart of
the HR community. Tommy is a Fellow of the Singapore Human Resources Institute since 2009.
Tommy's influence has, over the years, helped shape the HR landscape in Singapore, serving and chairing a number of HR policy and feedback councils and sharing fresh perspectives as a speaker at HR symposia.
About the Company
HR Guru is an innovative professional services firm specialising in
Human Resources and people matters.
Connecting Dots, Breaking Frontiers:
A team of HR experts, who possess a wide range of HR function skills and deep knowledge and understanding of today's complex HR challenges.
Blending deep HR experience with unique sector knowledge and practical real-life solutions, the team helps HR professionals to make the right decisions.
At HR Guru, the team does HR, and only HR
Providing online, on-demand professional advice, expert consultation and customised solutions for even the most complex HR challenges and people issues.
Working with individuals, professionals and businesses, the team offers career services, HR advice, coaching, consulting, outsourcing and talent acquisition. Services are customisable, scalable and relevant to individual's precise needs. Solving problems, for people and for businesses is their main priority.

许珉
执行董事
微信ID: WiseNetAsia
+65 9661 9473
+65 6238 0982