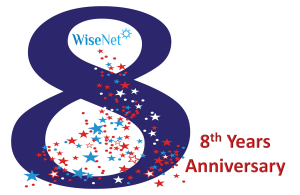 As we celebrate our 8th Year Anniversary, here is a little message to our job candidates, clients and business associates:
Looking back:
8 years from a small head hunter firm to a regional HR consultancy; 
8 years of hard work, tenacity and team chemistry that make things happen;
8 years of relentless drive in placing and developing talents, and building partnerships with companies of the same purpose.
     Going regional.  Started in 2011 and based in Singapore, WiseNet Asia has expanded to other locations in Shanghai, Chongqing, Hong Kong in China and Kuala Lumpur, Malaysia.
    The HR firm with the highest number of employees' retention.  The 3 longest employees have stayed with the company since day 1.  Turnover on average year-on-year is below 10%.
    Pioneer HR firm in Belt & Road Initiative/Chongqing Connectivity Initiative (CCI).  WiseNet Asia has been actively involved in the Talent Development and Business Matching aspects of the Chongqing Connectivity Initiative since it's inception in Nov 2015.  CCI is part of the greater Belt and Road Initiative which is estimated to be running close to 1 trillion in 3 regions.  In 2018, WiseNet (Chongqing) is accredited as one of the Talent Acquisition Service Provider for Chongqing Municipality from 2018-2019 under the HongYan (talent) policy.  Another award is the 'Chongqing Municipality Talent Attraction Work Station' by Chongqing Municipal Bureau of Human Resources and Social Security.
In 2011, Wesley Hui, founder of the company, said to his staff "I see myself as someone who is able to help people find real meaning and value by placing them in the right career path, at the same time, I help companies grow in many ways.  I don't see this as a transactional service because it's about the unquantifiable value that means a lot to everyone." 
8 years later, in WiseNet Asia, it is still about delivering real meaning and value, in talent acquisition, talent development, HR outsourcing and in everything that we do.
We look forward to working with all of you for more successful talents placements, more talents development and more successful collaborations.
Cheers to a meaningful future together ahead,
From all of us at #wisenetasia
http://wisenetasia.com/wp-content/uploads/2019/04/8th-anniversary-e1555339461226.png
130
200
Regine Chin
http://wisenetasia.com/wp-content/uploads/2016/09/WISENET_LOGO_PNG.png
Regine Chin
2019-04-12 04:19:28
2019-04-16 14:08:14
WiseNet Asia's 8th Anniversary Message to Job Candidates, Clients & Business Associates