News Release: SIT Partners WiseNet Asia and Yubei District People's Government to Facilitate Students Applied Learning with China-based Tech Giants
Undergraduates to work on industry projects with companies based in Chongqing, China
Singapore, 9 April 2021 –
In an effort to widen students' exposure to global industry projects amid COVID-19 travel restrictions, the Singapore Institute of Technology (SIT) is partnering human resources consultancy WiseNet Asia Pte Ltd, and the Chongqing Yubei District People's Government (YDPG) to offer industry collaboration opportunities. These opportunities are set to benefit students from the university's Engineering and Infocomm Technology clusters, as part of their Integrated Work Study Programme (IWSP).
Students will gain opportunities to interact with and learn from technology companies based in the Yubei District, home to the flourishing tech and innovation hub Xiantao International Big Data Valley, where more than 700 companies such as Intel and Microsoft have set up offices. Students will work remotely on programming and software engineering projects for an initial period of one trimester (four months). Physical on-site work attachments and industry visits to Chongqing, China, will commence when travel situations improve, with accommodation, meals and student visas sponsored by YDPG.
In addition to enhancing students' applied learning experiences, the partnership also seeks to leverage each party's strengths, experience, and capabilities to facilitate talent development and mobility between Chongqing and Singapore. As part of the agreement, SIT will contribute to the upskilling of Chongqing's professionals through its Engineering and Infocomm Technology-related Continuing Education and Training (CET) courses.
Associate Professor Ivan Lee, Vice President (Industry & Community), SIT, commented: "This timely partnership provides our students with opportunities to widen their international exposure and enhance their understanding of regional industry demands first-hand. SIT is confident that the real-world industry projects and work attachments at regional and global leading companies will provide an added dimension to our students' applied learning journey, training them to be nimble, adaptable and resilient in disruptive times."
Mr Wesley Hui, Director of WiseNet Asia, said: "As one of SIT's IWSP recruiters, we aim to place students in relevant positions across key industry sectors. With this tripartite collaboration, SIT students are able to work and collaborate with leading companies in Xiantao International Big Data Valley and gain a competitive edge in the job market. In addition to gaining valuable work experience, students will be trained to keep an open mind to new cultures and work environments, thereby granting them better chances at securing employment in the future."
A distinctive feature of SIT's degree programmes and an integral aspect of the university's applied learning pedagogy, the IWSP enables students to undertake paid employment and work on real-world projects, thereby allowing them to integrate theory and practice, and develop deep specialist skills in their chosen fie The IWSP is structured in a unique and distinct way for each degree programme to cater to the specific needs of the industry, developing industry-ready graduates. For more information on IWSP, visit https://www.singaporetech.edu.sg/applied-learning/integrated-work-study-programme.
A/Prof Ivan Lee, SIT, was joined by Mr Diron Chua, Director, WiseNet Asia, and Mr Tan Qing, Vice Secretary of the CPC Yubei District Committee, and Mayor/Chief Executive of YDPG at a signing ceremony held this morning to establish the tripartite agreement.  Mrs Josephine Teo, Minister for Manpower & Second Minister for Home Affairs, and Mr Tan Kiat How, Minister of State in the Prime Minister's Office and the Ministry of National Development, were also present as witnesses.
---
About Singapore Institute of Technology
The Singapore Institute of Technology (SIT) is Singapore's University of Applied Learning, offering applied degree programmes targeted at growth sectors of the economy. With a mission to nurture and develop individuals who impact society in meaningful ways, SIT aims to be a leader in innovative learning by integrating learning, industry and community.
The university's unique pedagogy integrates work and study by incorporating applied research for students to work on real industry problems and creating solutions that meet industry needs. SIT also advocates the work-learn continuum, which places an emphasis on upskilling and lifelong learning
For more information, visit www.SingaporeTech.edu.sg.
About WiseNet Asia Pte Ltd
Founded in the year 2011, WiseNet Asia Pte Ltd is a one stop HR solutions provider and management consulting firm headquartered in Singapore, with other locations in Kuala Lumpur, Chongqing, Shanghai and Hong Kong. WiseNet Asia's HR solutions consist of talent acquisition, talent transition, talent development and HR outsourcing. WiseNet Asia's core value is to accelerate human resources development through innovative HR models and knowledge sharing. For more information, visit http://wisenetasia.com/.
---
For media enquiries, please contact:
---
Related News
Ministry of Trade and Industry Singapore:  https://www.sgpc.gov.sg/media_releases/mti/press_release/P-20210409-1
Related Document: Press Release – Singapore Concludes Sixth CCI-JIC Meeting – 9 Apr 2021
---
Lian He Zao Bao Singapore, print edition 13-April-2021: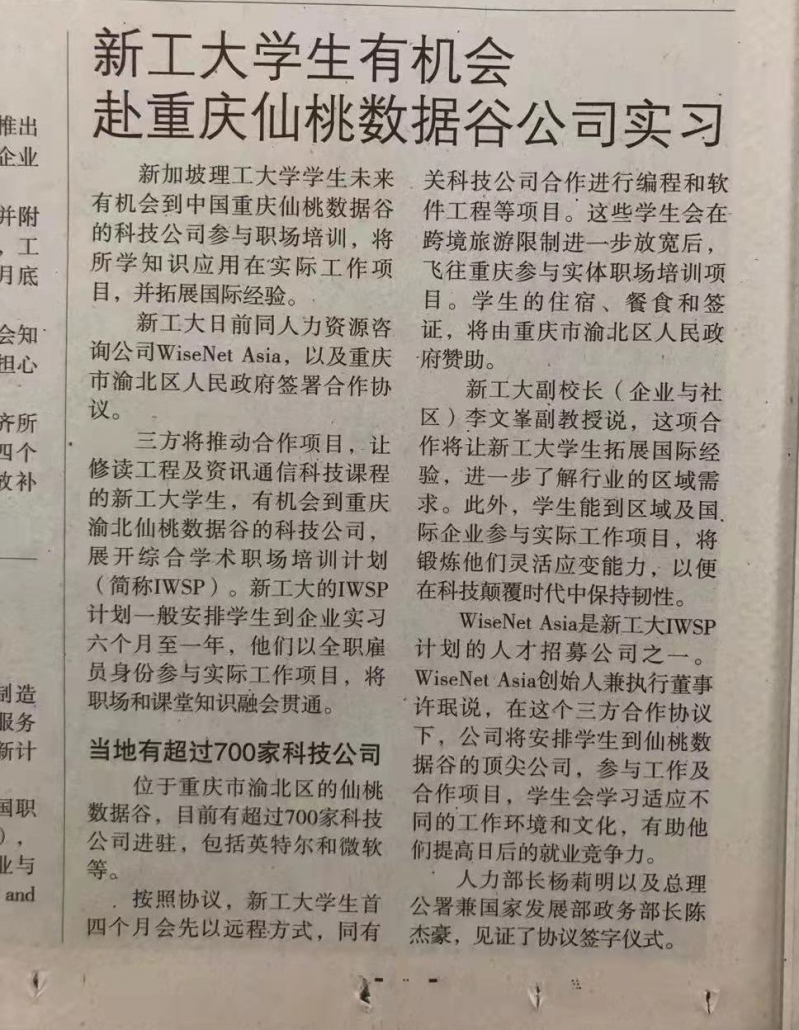 ---
ChinaNews.com: https://m.chinanews.com/wap/detail/zw/cj/2021/04-09/9451594.shtml
---
Chongqing News, China: https://mp.weixin.qq.com/s/dGQOQzJZMl9I47U680wjNQ
---
WiseNet Asia WeChat:  https://mp.weixin.qq.com/s/KnCVzI5FeFU0lFsBOhRa6A
https://wisenetasia.com/wp-content/uploads/2021/05/Logo-232-x-82-e1620661363308.png
0
0
Diron Chua
https://wisenetasia.com/wp-content/uploads/2021/05/Logo-232-x-82-e1620661363308.png
Diron Chua
2021-04-09 11:32:32
2021-10-12 17:30:59
News Release: SIT Partners WiseNet Asia and Yubei District People's Government to Facilitate Students Applied Learning with China-based Tech Giants