Dinner hosted by Consulate-General of Singapore in Chongqing
19 Dec 2017 –  Ms Karen Woong, General Manager of Wisenet Asia (Chongqing) Co Ltd, attended a dinner hosted by Consul-General (Chengdu) GAN Teng Kiat and CG-Designate (Chengdu) Steven Pang.
The dinner held in Chongqing Westin Hotel (Liberation Square) was specially hosted for Singaporeans working in Chongqing.
Among the attendees were senior executives working in Chongqing from companies such as Capitaland, Raffles Medical Group, GuocoLand, IE Singapore Chongqing Connectivity Initiative Office,  Singapore Power (SP Group), Sembcorp, Silkair, YPL (YUXINOU-Pacific Integrated Logistics Group Multimodal Co), Fu Yu Moulding & Tooling, Bangkok Bank, Le Meridien, PacificLinks Golf, Ecowise, etc.  Some of the spouses also joined the event.
The consular jurisdiction/coverage of Singapore Consulate-General in Chengdu includes Sichuan, Shaanxi and Chongqing.  The mission of the Singapore Consulate-General in Chengdu is to safeguard the legitimate interests and rights of Singaporeans in these provinces as well as to promote, forge and develop all-round bilateral links and co-operation.
CG GAN kicked off the dinner by welcoming the attendees and introducing CG-Designate Steven Pang.  CG GAN then announced that he would be stepping down from the position of CG Chengdu and CG-Designate Steven Pang would succeed him.
CG-Designate was then introduced to the gathering where he welcomed everyone, gave a brief introduction of himself and urged all to enjoy the evening of good food and fellowship.
Guests got to enjoy specially prepared Singapore all-time favourite gourmet delicacies such as Hainan Chicken Rice, Laksa, Fried Kway Teow, Satay, Bak Kut Teh, Gado-Gado, Har Cheong Chicken, etc.
Throughout the three-hour long dinner, the CGs mingled around with the guests where they had the chance to get to know everyone.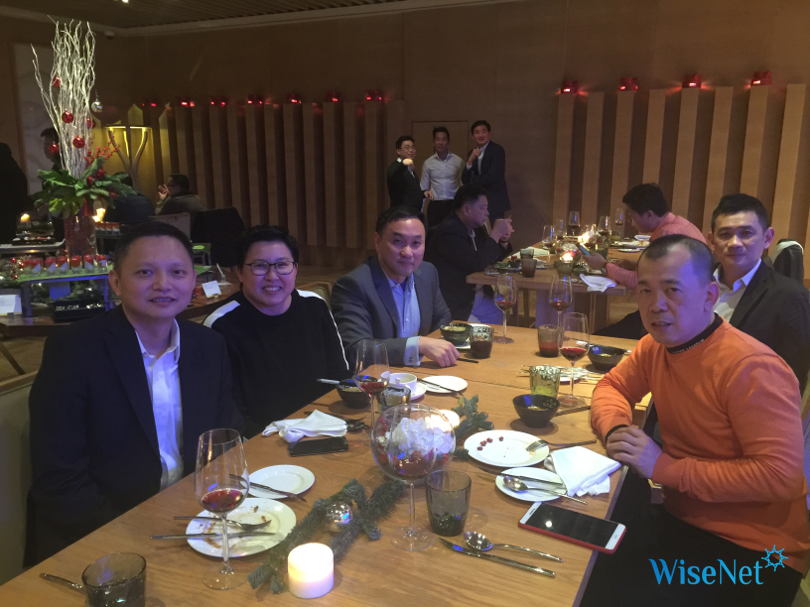 Left to right: CG-Designate Steven Pang, Karen Woong (GM, Wisenet Asia (Chongqing) Co Ltd), Colin Poh (GM, Tianjin Fumiao Engrg Consultant), Steve Kwek (GM Project, Guocoland China), Stanley Chu (Sales Manager, Pacificlinks Golf)
Ms Karen Woong, General Manager of Wisenet Asia (Chongqing) Co Ltd, is a Singaporean currently stationed in Chongqing.  She graduated from Nanyang Technological University with a Bachelor of Business Degree, specialising in Human Resources. She possesses about 15 years of HR Practitioner experience both in Singapore and overseas.  Ms Woong furthered her career in executive search and became a headhunter in 2010.  She serves clients from the industries covering real estate, healthcare, FMCG, aviation, tourism, hospitality, helping them to headhunt for candidates from and for regions including Singapore, China, Hong Kong, Middle East, India, Japan, Korea, Thailand, Australia, etc.
Ms Woong sets up the Chongqing office for Wisenet Asia and is in charge of developing business in Chongqing and other major cities in Western China.
About Wisenet Asia (Chongqing) Co Ltd
WiseNet Asia started as an Talent Acquisition firm, providing mid to senior talent finder (headhunting) services to our clients.
Founded and based in Singapore, we have since expanded our presence over Asia to open up offices in Malaysia, Hong Kong and China. Till date, our service offerings include Talent Acquisition, Talent e-Management (iHR Partner), Talent Development and Talent Transition.
WiseNet Asia set up the Chongqing branch in June 2017.  We are the first foreign-owned headhunting company set up in the HR Services Industry Park located in Yubei of Chongqing.  In Chongqing, Wisenet Asia mainly partners with Singapore companies coming to Chongqing/ Western China and China companies setting up business in Singapore on their Human Capital needs. We also assist companies to source for foreign talents to relocate to Chongqing under the Chongqing Government Talent Attraction Scheme (鸿雁计划).
https://wisenetasia.com/wp-content/uploads/2021/05/Logo-232-x-82-e1620661363308.png
0
0
Diron Chua
https://wisenetasia.com/wp-content/uploads/2021/05/Logo-232-x-82-e1620661363308.png
Diron Chua
2017-12-22 04:51:13
2017-12-22 04:51:13
Dinner hosted by Consulate-General of Singapore in Chongqing