Written by TY Chin
Copyright © 2017 WiseNet Asia Pte Ltd.  All Rights Reserved
In the next three years, the Chongqing aviation industry will see massive growth through the development of an Aviation Economic Demonstration Zone. The zone will house an aviation economic ecosystem that consists of aircraft manufacturing, aircraft supporting industries, logistics and various intelligent manufacturing industries.  The Aviation Economic Demonstration Zone is expected to achieve a breakthrough in output exceeding RMB100 billion.
The aviation sector growth is further facilitated by the Belt and Road Initiatives, Liangjiang New Area Development Plan, Yangtze River Economic Belt, and the China-Singapore (Chongqing) Demonstration Initiatives on Strategic Connectivity (CCI), the third government-to-government project between Singapore and China.
Chongqing Yubei District, the Economic Hub of Yangtze River
The planned Aviation Economic Demonstration Zone is located in the Yubei District of Liangjiang New Area, Chongqing. Liangjiang New Area is the first national level development area in inland China, and the third nationwide after Shanghai Pudong New Area and Tianjin Binhai New Area. It is a green, low carbon and intelligent ecological city.
Chongqing is the only municipality in western China. Its location in the Yangtze River economic belt is intersectional with the transcontinental sea and land routes of the Belt and Road Initiative. This geographical advantage has made Chongqing a major hub in Eurasian logistics and connectivity, and a key 'Belt' point in one of the Belt and Road Initiative routes.
Multi-Dimensional Transport Hub
The multi-dimensional transport hub in Yubei District consists of air, rail, sea, and road connecting inland China with the world through Belt and Road routes.
From the Free Trade Zone, Chongqing-Xinjiang-Europe (Yuxinou) International Railway is an 11,179-km rail route stretching from Chongqing to Duisburg, Germany. In 2016, there were 420 journeys made between China and Europe. Cargoes from Europe can be transported through Yuxinou to Chongqing, and send by airfreight to other Asia destinations that take about four hours such as Bangkok, Kuala Lumpur, Hong Kong and Osaka. This four-hour aviation economic circle with Chongqing as the transshipment center significantly reduce freight cost and time in the Europe Asia freight routes.
The road network in Chongqing is connected to Southeast Asia through a highway that connects to the port city of Qinzhou in southern Guangxi.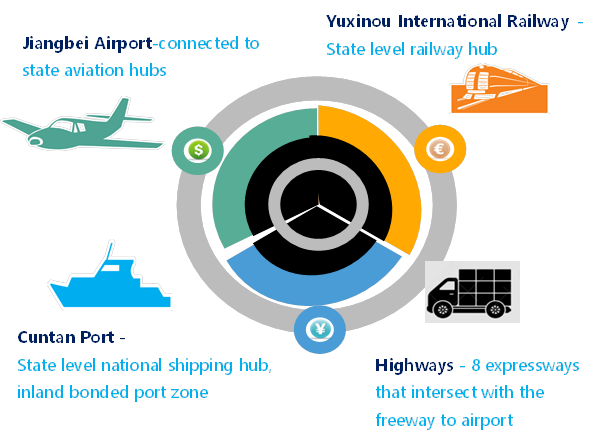 Chongqing Airport Industrial Park
The Airport Industrial Park was approved and established by the Chongqing municipal government in January 2002 as a municipal-level development park with an area of 54km2.  By 2020, Chongqing will establish an Aviation Economic Demonstration Zone. Development is based on the principle of 'One Park, One Town, One Base'.
One Park: A 2.2 km2 aviation industry park. Enterprises in the park will be oriented towards automotive manufacturing, aircraft manufacturing, aircraft repair and maintenance, aviation technology research and development, robotics, consumer electronics and international logistics distribution centers. The park aims to be the base of the aviation manufacturing industry.
One Town: Aviation town, a 2.9km2 hi-tech modern living city to cater to the aviation industry. Other facilities include international school, hospital, international aviation community amenities.
One Base: Transformation and upgrading demonstration base.
Business Advantages
The Airport Industrial Park is 1km from Chongqing Jiangbei International Airport. From 2016, Chongqing had the highest route growth in international flights in China. As at 2017, Chongqing Jiangbei Airport is the largest airport in inland China with more than 725,000km2of terminal floor space. It ranks among the world's 15 largest airports with an annual passenger capacity of 60 million and an annual cargo capacity of 2 million tons.
The park has a comprehensive infrastructure supporting system that includes water, power and energy supply at competitive rates. The business district has designated commercial and residential facilities that include hotels, banks, supermarkets, schools and other modern-day conveniences.
Current industries in the park include automotive, electronic equipment, intelligent terminal, e-commerce and modern logistics. As a designated national technology innovation base, the Airport Industrial Park has various support schemes for research and development of intelligent manufacturing.
Chongqing has 60 colleges and universities, 356 vocational and technical schools, 258 research institutes. Within the park, there is a technical college with nearly 20,000 students. The average salary for management staff is RMB 5000 per month, skilled workers RMB 4000 per month, and general workers RMB 2000-3000 per month.
Enterprises enjoy preferential policies from the Liang Jiang New Area industrial development zone, Western opening up policy and 3 Gorges Reservoir Area development plan. To encourage direct investments from designated key enterprises, the park has implemented the "one enterprise, one policy" to provide customized support for ease of doing business.
Strong Wave of Positive Growth for Chongqing Aviation Industry
In the region, a growing middle class in China and Asia has prompted the competition for airport hubs. An estimated USD125 billion is currently underway for building new airport hubs in Asia. In Beijing, a new USD12.9 billion airport and one of the world's biggest aviation hubs is due to open in 2019. The growing competition will redraw passenger travel flow and change the dynamics of airfreight.
Chongqing aviation hub, being the key inland hub in China is set for promising growth as a transshipment center that benefits from increasing local consumption and Asia regional demand. By 2020, China's domestic consumption is estimated to be USD2.3 trillion, which is roughly 1.3 times of Germany or UK.
Disclaimer:  The opinions in this article are those of the author and do not represent Wisenet Asia Pte Ltd.
Sources:
Chinadaily.com.cn. (2017). Liangjiang eyes aviation industry. [online] Available at: http://www.chinadaily.com.cn/regional/chongqing/liangjiang/2017-04/07/content_28856511.htm
Kggy.com. (2017). [online] Available at: http://www.kggy.com/html/zjyq/
English.liangjiang.gov.cn. (2017). Comparative advantages. [online] Available at: http://english.liangjiang.gov.cn/2014-02/22/content_17242344.htm
Cqexpat.com. (2017). Chongqing Expat Club – Chongqing International Aviation Hub. [online] Available at: http://www.cqexpat.com/i_forum/show.asp?id=66972
Pham, S. (2017). The numbers behind China's massive aviation market. [online] CNNMoney. Available at: http://money.cnn.com/2017/05/05/investing/china-aviation-market-c919/index.html
Whitley, M. and Park, M. (2017). Singapore and Hong Kong's Airport Dominance Is Under Threat. [online] Bloomberg.com. Available at: https://www.bloomberg.com/news/articles/2017-07-26/singapore-and-hong-kong-s-airport-dominance-is-under-threat World Economic Forum. (2017).
3 great forces changing China's consumer market. [online] Available at: https://www.weforum.org/agenda/2016/01/3-great-forces-changing-chinas-consumer-market/