Evolving Workplace Trends You Can't Ignore
WiseNetAsia Knowledge Center
Copyright © 2019 WiseNet Asia Pte Ltd.  All Rights Reserved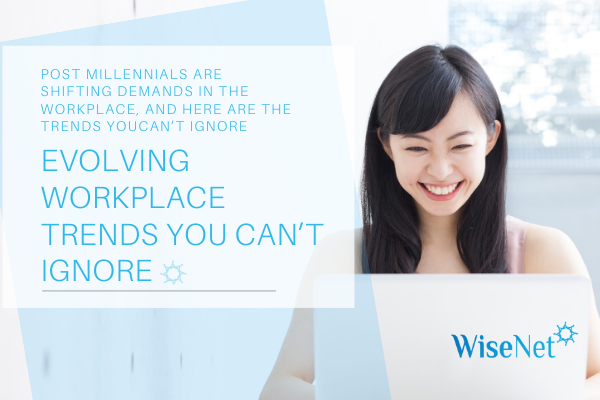 Everything changes, but some things stay the same in the workplace. The common denominator is the workforce and the traits they bring along.
To keep ahead of the game, and to attract and retain the best talents, the people-centred approach still rules the day despite technological advances.
Worldwide, millennials and post millennials – the Gen Z, are making up more than a third of the workforce and this figure continues to climb. They have shifted expectations and demands in the workplace. To include them meaningfully and productively, companies will need to be agile as they rethink the workplace to focus on what's important to this expanding group of workers.
PRIORITIZING THE WORKER EXPERIENCE
Traditional office norms and rigid structuring of work processes and hours are not going to cut it. At the first hint of a better-fit opening elsewhere, employees are going to head out with few misgivings.
Managers who shake their heads at the teflon quality of the 'younger' workforce today would do better to accept that priorities have changed since the boomer era.
Due to technology and because of greater accessibility and a world where we are affected by happenings globally, it has become harder to compartmentalize work and personal life.
Flexible work arrangements
As a result, the 9 – 5 bracket doesn't always work anymore. Flexible work arrangements are welcome where it's not the fixed linear hours put in that counts, but results that matter.
This is even more apparent with the gig economy where skilled workers are hired on a project basis and can work remotely – the freelancers, consultants, and other non-permanent workers.
Work-life balance
Work-life balance is prioritized as people become more health-conscious both physically and mentally and take conscious steps to avoid burnout. This is where people-centred perks like company subsidized gym memberships, breakout areas with snacks and entertainment, mental fitness care and regular company hangouts can bolster a sense of balance and satisfaction.
Face-to-face interaction at work
As contradictory as it sounds, millennial workers who grew up in a digital-centric world look forward to face-to-face interaction at work. This is where even though communications are often via the internet, meetings in real life are crucial, not just teleconferencing.
Positive engagement from higher-ups
Positive engagement from higher-ups is desired where workers feel cared for and where it is not necessarily only about work every time. Regular check-ins from their higher-ups make workers feel valued and trusted, more motivated and integrated into companies to produce better work and stay longer in the company. 
SOFT SKILLS ARE THE NEW HARD SKILLS
Hard skills can be readily taught but soft skills take longer to learn. Positive attitudes, good organizational skills and the ability to connect with people are incredibly valuable skills sought by future-oriented companies. Keeping a sharp lookout during recruitment and doing appraisals for these strengths in candidates are crucial so you don't miss out.
LEVELLING OF CORPORATE HIERARCHIES
Climbing the corporate ladder vertically was the goal in the past. Not anymore, as workers take on multiple roles and expand their skillsets in the process following the lattice model, making them more marketable and in demand.
As career paths become more fluid, it is timely for companies to foster a more collaborative environment that allows for team-switching, redesigning of meaningful job descriptions as well as platforms to share ideas and provide candid feedback. Unless companies do so, it is almost certain that they will lose good talent sooner than later.
Companies need to stay open and alert to training and moving their workers within the company for them to stay invested in the company. 
INCREASING CO-EXISTENCE OF ARTICIAL INTELLIGENCE AND WORKERS
Technology has brought along artificial intelligence which, among other things, takes over the mundane and repetitive tasks of human workers. Chatbots can respond with greater immediacy and accuracy, not just for the consumer, but also for workers when they need mentoring or assistance.
What this means is that workers are expected to be better equipped to take on more complex, varied and creative roles including social and emotional ones. This ties in to cross-training and horizontal collaboration within the company discussed earlier. Clearly, the human element is not going away! 
COMPANIES TAKING A STAND ON SOCIAL ISSUES
Activism is a catchword these days and with ever-increasing information and awareness of the ripple effects of events on life, companies that take a stand on social issues will attract the right talents.
Workers will align better with a company that have a social mission in which they feel they can contribute meaningfully instead of merely making a living. With a strong sense of shared purpose – part of the bigger picture – they are more readily invested to give their best at work.
All said, the millennial generation which forms a large chunk of the workforce expects promotions and salary increases to happen sooner than later. HR managers will need to manage these expectations by striking a balance – inspiring steadfastness without courting cynicism!
—End—
https://www.efrontlearning.com/blog/2017/10/trends-2020-workplace.html
https://techwireasia.com/2019/07/the-future-of-work-is-here-and-needs-more-hands-on-leadership/
https://www.hrinasia.com/recruitment/top-5-workplace-trends-for-2018/
https://www.timeo-performance.com/recruitment/2019-hr-trends-for-apac-challenges-of-agility-and-managing-a-multi-generational-workforce/
https://millennialboss.com/2015/12/things-millennials-want-at-work/
https://dynamicsignal.com/2018/10/09/key-statistics-millennials-in-the-workplace/
https://bluemarblepayroll.com/top-5-asia-hr-trends-watch-2019/
https://www.hrinasia.com/retention/how-to-help-nurture-and-retain-your-employees/
https://blog.linksinternational.com/blog/top-5-asia-hr-trends-to-watch-in-2019
https://www.mercer.com/our-thinking/career/voice-on-talent/five-workplace-trends-shaping-the-future-of-work-which-are-most-important-to-you.html
https://danschawbel.com/blog/the-top-10-workplace-trends-for-2019/
https://www.shrm.org/hr-today/news/hr-news/pages/top-10-workplace-trends-for-2019.aspx
https://www.cnbc.com/2018/12/13/5-top-workplace-trends-to-watch-in-2019.html
https://wisenetasia.com/wp-content/uploads/2019/10/Article-work-trends-4.png
400
600
Diron Chua
https://wisenetasia.com/wp-content/uploads/2021/05/Logo-232-x-82-e1620661363308.png
Diron Chua
2019-10-23 10:23:00
2020-06-23 14:11:50
Evolving Workplace Trends You Can't Ignore