Remote Internship: How to make this work for employers and employees?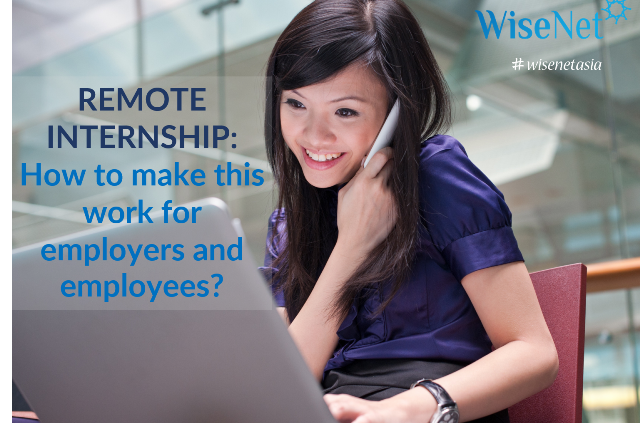 WiseNetAsia Knowledge Center
Copyright © 2020 WiseNet Asia Pte Ltd.  All Rights Reserved
Intro
A guide on remote internships for interns and employers in Singapore, Malaysia, Thailand, Australia, and China and the benefits that come with it.
Everywhere around the world, the COVID-19 pandemic has sent a large percentage of the total population to work and study from home. While the situation in some countries have changed for the better and people have gone back to resuming their daily lives with the 'new normal', most countries are still keeping their borders closed and have imposed an indefinite travel ban, making this a challenge for students keen on going for international internship programmes.
According to the Ivy Research Council, 89% of students pursuing a 2020 summer internship would prefer a remote internship over a canceled internship programme. As a result, an increasing number of employers with internship programmes across the world have opted to transition to remote internships, rather than cancelling or postponing their internship programmes.
What Is a Remote Internship?
Remote internships, also known as virtual internships, are unique in the sense the intern does not have to be in a physical office. Interns are interviewed and allowed to work from anywhere, including across states and countries. For example, the intern could be based at home in Singapore and is undergoing internship with a company in Malaysia, Thailand, Australia, or China.
With the upcoming Industry 4.0, the increasing development of communication technologies, and new remote-working cultures, remote internships are the way forward at this age and time. All you need is a fully-functioning and stable internet connection, a reliable laptop or desktop computer, a webcam, headphones and a bold mindset and you are good to go.
While the working arrangements may be different, the timeline for remote internships is typically the same as collocated internships – 3 to 6 months, requiring 20 to 30 hours work per week.
Which Countries and Industries Offer Remote Internship?
Numerous countries have started to offer remote internships and this includes the world's second-biggest economy – China. The country saw growth of 4.9% between the months of July and September, compared to the same quarter last year. Moreover, over the previous two decades, China saw an average economic growth rate of about 9%.
In the city of Chongqing, located at Sichuan Province, the significant rise in its economy and rapid urbanization over the last 15 years has encouraged the rise in remote internship opportunities from entrepreneurial startups as well as larger well-known companies in a vast range of fields such as software engineering, accountancy, fashion, arts, and green technology.
As Chongqing rises to the 4th place among top 10 Chinese Cities by GDP in H1 2020, surpassing Guangzhou, Suzhou and Chengdu, the city's rapid economic growth has created thriving business districts, with a diverse range of established companies including Apple, Deloitte, IBM, ZTE, Schlumberger, Schneider Electric, and ABB.
Already, the city attracts an ever-increasing number of career-minded young people from across China and around the world to gain professional experience through their remote internship programmes. With recent travel restrictions, there is no doubt that the numbers will increase.
Besides China, the same can be said with Singapore's neighbouring countries – Malaysia, Thailand, and Australia. In those countries, remote internships are growing rapidly in popularity as a viable alternative for interns and employers since the start of the COVID-19 pandemic.
What are the Benefits of a Remote Internship?
Most of the benefits are similar to an in-person internship programmes such as gaining valuable work experience, developing and refining skills, and exploring the possibilities of a future career path. However, remote internships do offer unique benefits that cannot be obtained from traditional in-person internships.
Experience Remote Work
As more and more people in the workforce are encouraged and exposed to the idea to work remotely, landing a remote internship is a timely and smart move. Use this opportunity to gain valuable work experience and learn how to apply remote project management techniques, optimize on current resources, and utilize relevant software applications such as Microsoft Teams and Slack. Seize this moment to gain employability skills.
Reduced Costs
Going on an internship in another country can be challenging and costly for the intern as well as the employer. There is the air ticket fare, extra baggage, commuting expenses, accommodation rentals, and new equipment. With remote internship, cost-savings benefits include reduced traveling expenditures, lower or zero housing costs, and less office equipment expenses.
Greater Diversity and Global Perspective
Remote internship means you are no longer limited geographically. By removing location as a barrier for recruitment and employment, the pool of potential employers and interns open up significantly. You could have a team from Singapore, China, Australia, Malaysia and Thailand working on a project together. The diversity of ideas and backgrounds from people from all over the world create richer work environments and innovative outcomes.
Convenient Working Arrangements
Employers and interns typically find the flexible working package to be attractive. One such example is unlike a typical 9 to 5 office day internship programme, meetings can be done online and scheduled at a time that is convenient for everyone. There are no unnecessary disturbances and interruptions to the current workflow.
Increased Accountability, Productivity and Results
With clear deadlines, self-organization skills, self-discipline and time management skills, remote interns become more accountable when it comes to handling their own schedules and finishing tasks. Their productivity levels increase significantly and they produce better results. Furthermore, with the help of relevant task management software, a supervisor can now support and address the issues of many interns at one time, rather than 1 or 2 interns.
The COVID-19 pandemic has proved that working from home can be done efficiently and is still being done for many jobs and companies. Remote internships or virtual internships would not be any different. In fact, with the uncertain future that lies ahead, it is crucial for interns and employers to adapt to the situation. Even when the virus wanes, a remote internship programme is still a viable option.
—End—
https://wisenetasia.com/wp-content/uploads/2020/11/Article-Remote-Internship-web-large.png
468
640
Diron Chua
https://wisenetasia.com/wp-content/uploads/2021/05/Logo-232-x-82-e1620661363308.png
Diron Chua
2020-11-12 15:12:12
2020-12-02 04:50:53
Remote Internship: How to make this work for employers and employees?