LIST OF TRAINING PARTNERS
Click on the headers to find out more about our training partners.
Ms Tan Keng Keng
Founder of TransCultural Group
Area of Expertise


Executive Orientation Programmes
Pre/Post Merger Cross Cultural Team Integration
Effective Global Project Team Programmes
Ms Keng Keng Tan is the founder of TransCultural Group, she has over 25 years of successful experience in international business across Europe, North America and Asia Pacific, gaining respect and recognition from her western and asian peers alike. Her global experience ranges from Engineering, Marketing & Sales, Strategy & Business Development, OEM & Alliances, Market Intelligence and Consulting.
Keng Keng has a B.Eng (Hons) from King's College, University of London (UK) and a MBA from the Fuqua School of Business, Duke University (USA). She is a certified advanced CQ facilitator by the Cultural Intelligence Center, LLC USA, and advanced trainer and facilitator of "CultureActive" Profile Assessment tool by Richard Lewis communications, UK . In addition to that, she also conducts International Business Etiquette courses in Switzerland and Asia.
Cultural background and experience
Keng Keng was born in Melaka (Malacca) Malaysia, after a traditional Chinese upbringing, she went to England to complete her education and settled in France. She started her career working for an US multi-national company its European regional center (France).
After being identified as a high-potential employee, she was sent for  assignments to its US headquarter and Asia Pacific regional center (Singapore). Keng Keng speaks six languages fluently, traveled to more than thirty countries around the world before settling in Singapore.
Cultural matters and how they impact businesses and personal success are passionate subjects after her many years of global journey. It leads her to create a business to share and impart valuable experiences gathered by her own and her professional partners' journeys. Participants from around 30 countries have attended her workshops in Singapore, Switzerland, China, Malaysia, Indonesia and Philippines with 100% client satisfaction.
Keng Keng has contributed article to the Human Capital Leadership Institute (HCLI) in Singapore and is also an author for a book encouraging youth in exploring and developing cross-cultural friendship.
About the Company
Cultural Intelligence (CQ) and Cross Cultural Management
TransCultural Group (TCG) is a premier consulting firm that provides high quality cultural insights and learning programmes, including workshops and customised cultural experiences to those in search of traditions, values and excellence.
Services include:
Cultural Intelligence (CQ) and Awareness Programmes for global leaders and cross-cultural project teams
Pre/Post Merger Cross-Cultural Team Integration Advisory services
Global Projects Keynote (motivational) speeches and workshops
C-Suite Global Leadership coaching
Cultural Exploratory and Immersion programmes (expatriation or interest-base – including Social & Dining etiquette workshops)
Headquartered in Singapore, the company has served global FT-500 clients at headquarter and regional levels around the world. Consultants are multi-lingual and are selected to take on client's assignments only when they can relate to specific business areas and focus cultures.
Mr Tommy Ng
Founder & Chief Guru of HR Guru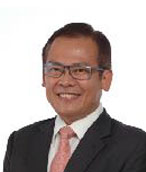 Area of Expertise 
Championing HR Excellence
Helping HR Leaders enhance careers
Helping companies manage and leverage people effectively
Before founding HR Guru, Mr Tommy Ng had a career in HR spanning over three decades. He was previously the Human Resources Director of Tiger Airways, General Manager of Group HR for GuocoLand Limited, Senior Vice President of Corporate Services at SMRT Corporation, Senior Vice President of Global HR for Raffles Holdings Limited/Raffles International Limited and Executive Director of Raffles Knowledge/Raffles UniVirtual.
A former member of the Industrial Arbitration Court, Employers' Panel, Tommy was conferred the Medal of Commendation by the National Trade Union Congress and has been bestowed with numerous other awards, including the Outstanding Contributions to HR from HRM Asia, the highest accolade for HR professionals in Singapore, recognising him as a stalwart of
the HR community. Tommy is a Fellow of the Singapore Human Resources Institute since 2009.
Tommy's influence has, over the years, helped shape the HR landscape in Singapore, serving and chairing a number of HR policy and feedback councils and sharing fresh perspectives as a speaker at HR symposia.
About the Company
HR Guru is an innovative professional services firm specialising in
Human Resources and people matters.
Connecting Dots, Breaking Frontiers:
A team of HR experts, who possess a wide range of HR function skills and deep knowledge and understanding of today's complex HR challenges.
Blending deep HR experience with unique sector knowledge and practical real-life solutions, the team helps HR professionals to make the right decisions.
At HR Guru, the team does HR, and only HR
Providing online, on-demand professional advice, expert consultation and customised solutions for even the most complex HR challenges and people issues.
Working with individuals, professionals and businesses, the team offers career services, HR advice, coaching, consulting, outsourcing and talent acquisition. Services are customisable, scalable and relevant to individual's precise needs. Solving problems, for people and for businesses is their main priority.

Wesley Hui
Executive Director
WeChat ID: WiseNetAsia
+65 9661 9473
+65 6238 0982